TRAVEL TIPS
LINKS
NEWS FEEDS



Sparta Praha
Moore Sports Tours
International Hockey Tournaments.
[click here for info]


Here's what a great customer has to say about the Moore Sports Tours experience.
[click here to read]
Many more testimonials are available by request.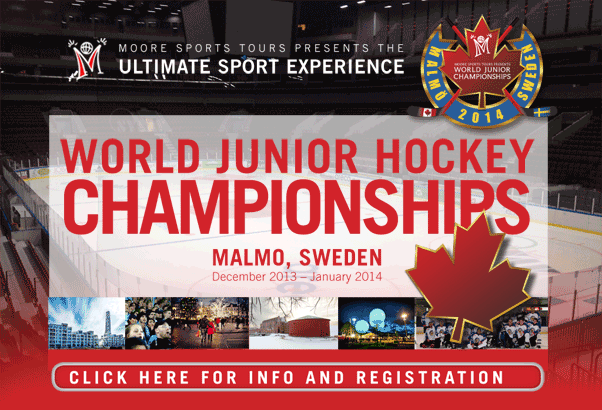 Welcome to Moore Sports Tours, featuring international ice hockey and sports tours
into or out of Canada – play the game ANYWHERE, ANYTIME!! Play your sport overseas
in Europe, including Scotland, Sweden, Austria, Germany, Russia, Italy, the Czech
Republic or many other fascinating countries.
Interested in sports and travel? MOORE SPORTS TOURS can make your international sports dream a reality. We can create a customized itinerary for your group so that you can play in Spain, the UK or Finland. In addition, you get the opportunity to explore the world while playing a sport that you love. MOORE SPORTS TOURS can help. We are a sports tour company, based in Toronto, Canada. We promote sport, travel, education, and cultural exchange. Our events cover a large spectrum as we fulfill travel and athletic desires of all sports at all levels of competition. Ice hockey tours, golf tours, soccer tours, baseball tours, field hockey tours, volleyball tours and rugby tours and more. We play the game –anywhere, anytime.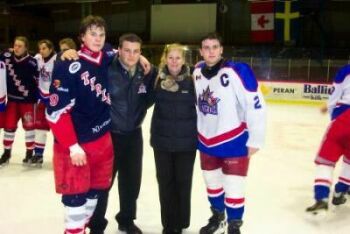 Ice hockey teams from Sweden and Canada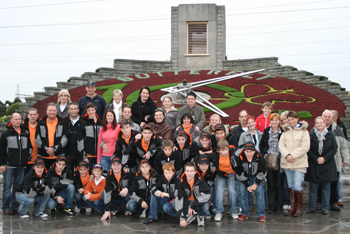 Tilburg Trappers in Niagara Falls, Canada

We are excited to have the opportunity to share all of our FANTASTIC travel options with you. Find out about our overseas ice hockey, soccer, baseball, field hockey, volleyball and rugby tours, camps and tournaments within North America and Europe.

With MOORE SPORTS TOURS all of your dream sports vacations can be fulfilled. What better way to travel than by combining your dream destination WITH your favourite sport.

Find out what MOORE SPORTS TOURS can do for you! From the conception of your tour idea, to the creation of YOUR itinerary, to the implementation of your tour, MOORE SPORTS TOURS will be with you EVERY STEP OF THE WAY!!

CONTACT US TODAY!
ALL TRAVEL ARRANGEMENTS MADE BY UNIGLOBE ENTERPRISE TRAVEL LTD.
Telephone: 416-363-7491
All payments for ALL travel services are to be made payable to:
Uniglobe Enterprise Travel Ltd., 34 Britain Street, Suite 200, Toronto ON, M5A 1R6
website: www.premieregroup.com
TICO Number : 1810380

© 2013 Moore Sports Tours: Ice Hockey tours, Soccer tours, Baseball tours, Field Hockey tours, Rugby tours, Sailing tours, Golf tours, taking you and your team overseas to Europe, North America, Australia and more .